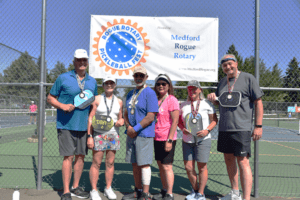 This year not only did 39 of our club members volunteer to help prepare and run the event, but several Rotarians also played in the event, including six members 0f our own club and three from the Jacksonville-Applegate Club.
On Friday, both President Kellie Hill with partner Barbara Tompkins and Cheryl Dyer with partner Martha Kelly played in the women's doubles tournament.
On Saturday, the mixed doubles teams included; Bruce Garetto and Cheryl Dyer, Larry and Jan Hildebrandt, Cindy Williams and her partner Dave Pelton, George Prokop and his wife Terrie Cates.
And on Sunday, men's doubles, Bruce Garetto and his partner William Kelly played, and Larry Hildebrandt teamed up with Jerry Hayes of the Jacksonville-Applegate Rotary Club. Also, John Bowling and Roger Thom of the Jacksonville-Applegate Rotary club played on Sunday and were sponsored by State Farm and fellow club Member Judy Johnson.
Great to see all these Rotarians out there having fun while supporting our major fundraiser.
For more photos please go to our Facebook page at https://www.facebook.com/people/Medford-Rogue-Rotary-Club/100083932011827/